From the Desk of Dr. Lex Gonzales, PT, DPT
Dear friend,
When it comes to persistent, recurring, or chronic Low Back Pain, you are probably making two of the most common mistakes that even physicians, physical therapists, chiropractors, and other clinicians make to fix back pain.
These mistakes are the reason why you end up with either a pain pill, a spinal injection, or even an invasive surgery. Many healthcare providers fail to listen to the most important member of their recovery team - YOU!
With Back Pain Unlocked, you will discover a comprehensive system you can implement at the comfort of your own home.
By implementing this system, YOU have the power...
No More Pain Pills, Steroid Injections, Spinal Surgeries, Or Fancy Gadgets And Equipment.


Just A Sensible And Effective System
You Can Do At Home.
Years ago:
I was teaching my patients exercises and techniques to improve their pain and function, and just like a well-meaning and aggressive coach, I pushed my patients to perform to the best of what I know they are capable of.
But I didn't always achieve the results my patients wanted.
Like many healthcare providers, I also made the mistake of forgetting the most important member of the recovery team - the patient.
I forgot to listen to what their thoughts were about their experience with pain.
Ever since:
I listened to my patients and spent the next decade of my physical therapy practice incorporating their feedback to my clinical practice. It culminated in my going back to school and earning a doctorate degree in physical therapy.
I've seen what works. I've also seen what doesn't work.
When other methodologies and treatment modalities failed, I noticed that this specific system helped my patients achieve the breakthroughs they have been badly looking for.
I found this system as the most effective in overcoming their biggest obstacles...
The difference?
What I will be showing you in this book is not just one particular method.
Or one technique.
Or one protocol.
Back Pain Unlocked will teach you a comprehensive system that starts with education and ends in implementation.
What You Are About To Discover From This Book Allowed My Patients To Free Themselves From The Grip Of Pain And Dysfunction.
(The Best Part Is They Did It Themselves From The
Comfort Of Their Own Home.)
Obviously, I can't promise that you'll read the book I'm about to give you and achieve the same results. It requires focus and discipline. It is for people willing to invest in themselves.
But it works.
Here's four specific improvements I see my patients achieve after implementing Back Pain Unlocked:
One, by recognizing their belief systems about pain, they are better equipped to anticipate their reactions to the stresses that would otherwise aggravate their back pain.
Two, by understanding the inherent structural strength of their back, they start to trust themselves and their body's capacity to heal.
Three, by baking-in accountability prompts, they are more likely to stay the course and see themselves through their goals.
Four, by following the framework I outlined in the book, they found a long-term solution to their chronic low back pain problems.
The Reason I Am Teaching You This
Specific System Is Because Many People, Including Healthcare Providers, Are Doing It Incorrectly.
Just teaching people suffering from chronic low back pain about the need to address the different components of their pain experience, without providing them the tools to succeed is not enough.
Unfortunately, most healthcare provider's hands are tied:

In the current healthcare environment we operate in, healthcare dollars are mostly being managed by insurance companies.
They control the cost and balance the fiscal equation in either one of two ways:

By putting limits to your insurance coverages; i.e. you have high insurance copay or limited number of visits allowed, etc.
By decreasing reimbursement to your healthcare provider; i.e. decreasing payment to your doctors or physical therapists, etc.
To check the authenticity of those statements, simply ask yourself,

"When was the last time your healthcare provider spent a good hour educating and providing you with the tools you need to succeed?"
Remember earlier when I told you what I learned from listening to my patients?
That YOU are the most important member of the recovery team.
If you are not provided the education and the tools to succeed, how can you succeed?

That is why I wrote Back Pain Unlocked - to provide you with the education, resources, and tools you need to succeed in your own journey to recovery.
What You Are About To Learn From This Book Is What Allowed My Patients To Win Their Lives Back From Their Expressed Misery.
DISCLAIMER: I have to tell you... these results are not guaranteed. In over twenty-four years of practicing as a licensed physical therapist in the United States, I meet people all the time who wish for better health, but I meet far fewer who are willing to do something about it.
But for those willing to put in what is required, I can show you how to achieve a pain-free, functional back at home using a sensible and effective system that works.

Achieve a Long-Term Solution
To Chronic Low Back Pain With
BACK PAIN UNLOCKED™️
The book I have available for you on this page is called Back Pain Unlocked and that's exactly what you will learn from the book: a comprehensive system to help you unlock the secret to achieving a pain-free, functional back at home.
The price is $5.99
The book will outline everything you need to implement a comprehensive back program at home.
Here's Some of What You'll Discover In This Brand New Book:
When is the best time to use pain medications, and why using pain pills as the long-term solution for your chronic low back pain may cause you more harm than good.
What is the effect of steroid injections to vertebral bones? (HINT: It's a condition called "GIO")
What is the percentage of "Failed Back Surgery Syndrome?" You'll be surprised when you find out.
In a survey where 100 surgeons were asked whether they themselves were willing to undergo lumbar fusion surgery for nonspecific back pain, how many surgeons say they will? (HINT: The answer will astound you!)
What is the primary reason most people with low back pain cite for not moving their bodies? (HINT: It's not because they don't want to.)
Will rest, inactivity, or lack of movement help improve your back pain sooner?
The 3 components critical to the success of a back program… miss one and you'll most likely crash down from the weight of your chronic low back pain experience.
What to do if you're a "type-A" personality type, a perfectionist, or a worrier...
Why any one exercise, method, or protocol is not sufficient to address your multidimensional experience of pain (HINT: No matter what exercise or technique you use, chronic low back pain cannot be remedied by exercises alone.)
Discover what scientific studies reveal about the role of your thoughts, feelings, attitudes, belief, and even environment in your experience of pain.
What is your body's alarm system, and how you can turn down it's hypersensitivity to pain.
What are the 4 hurdles to recovery that pose the most challenge to many people with chronic low back pain? Knowing these hurdles ahead of time will give you a significant leg-up in your own journey to recovery.
The 2 behaviors that can intensify your experience of pain and that may even lead to depression (Not being aware of these behaviors can prolong your back pain.)
How can brain training, meditation, guided motor imagery, and even writing help you control your hypersensitivity to pain. I'll provide you with examples on how to do it.
How to find your spine's optimum, pain-free position. (HINT: The maneuver is not as hard as other back exercise programs would want you to think.)
How to coordinate your muscles to brace your abdomen before movement. Or, how to stabilize your spine before lifting. By the way, the goal of your back stabilization exercises are not to strengthen your core muscles. Find out why.
Why participating in a back exercise program for an hour or two every day is NOT sufficient to reverse the other twenty-three or twenty-two hours of faulty posture and movement patterns. And what you can do about it.
Know why it is so hard for most people to stick with an exercise program (including a back exercise program) and complete it thru its conclusion. (HINT: It has something to do with the "Dip" or the "Valley of Despair".)
Why you would rather sit on your couch and watch Netflix instead of work on improving your back pain and ability to function. (It's not you... Or, more accurately, it's not just you.)
What is your directional preference or bias? (HINT: Knowing your directional preference or bias can give you a quick win in your battle against back pain.)
The fundamental problem with comprehensive back exercise programs...
What is the meaning of your MRI or Xray result, i.e. bulging or herniated disc, spinal or vertebral stenosis, degenerative disc disease, slipped disc, etc.?
What keeps your back bones together... and do they slip out of place?
Where is your pain coming from? (HINT: You might be surprised with the answer.)
Why it is wrong to start your back exercise program with core strengthening exercises - it is like positioning the cart before the horse.
What are cues to action and accountability prompts? And why they are critical to your success...
What is the difference between an "unlocking exercise" versus a "stretching exercise"? And when do you use each one?
What is the number #1 activity you can do to achieve the best stability and support for your spine? (Learning to do this is the key to achieving a long-term solution to your back pain.)
What You Are About To Learn From This Book Is The Same System That Allowed My Patients To Live Their Best Selves - Achieving The Quality Of Life They Richly Deserved!

Get The Book Now and Get These 3 Bonuses for FREE: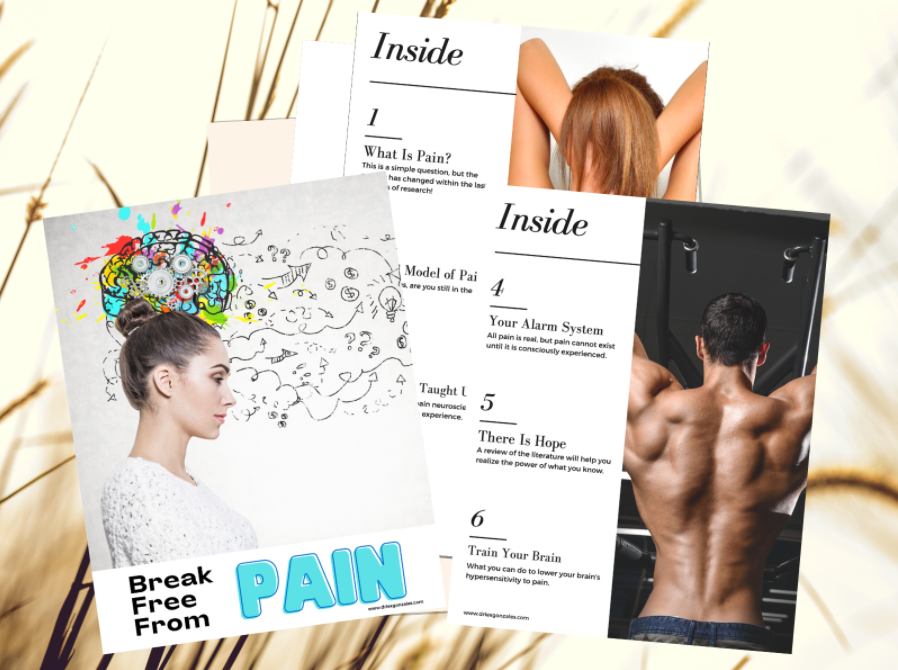 Bonus #1 Break Free From Pain Workbook

Pain Neuroscience Education (PNE) is a critical component in helping you achieve a long-term solution to your chronic low back pain.
Use this workbook to understand your body's "living pain alarm system".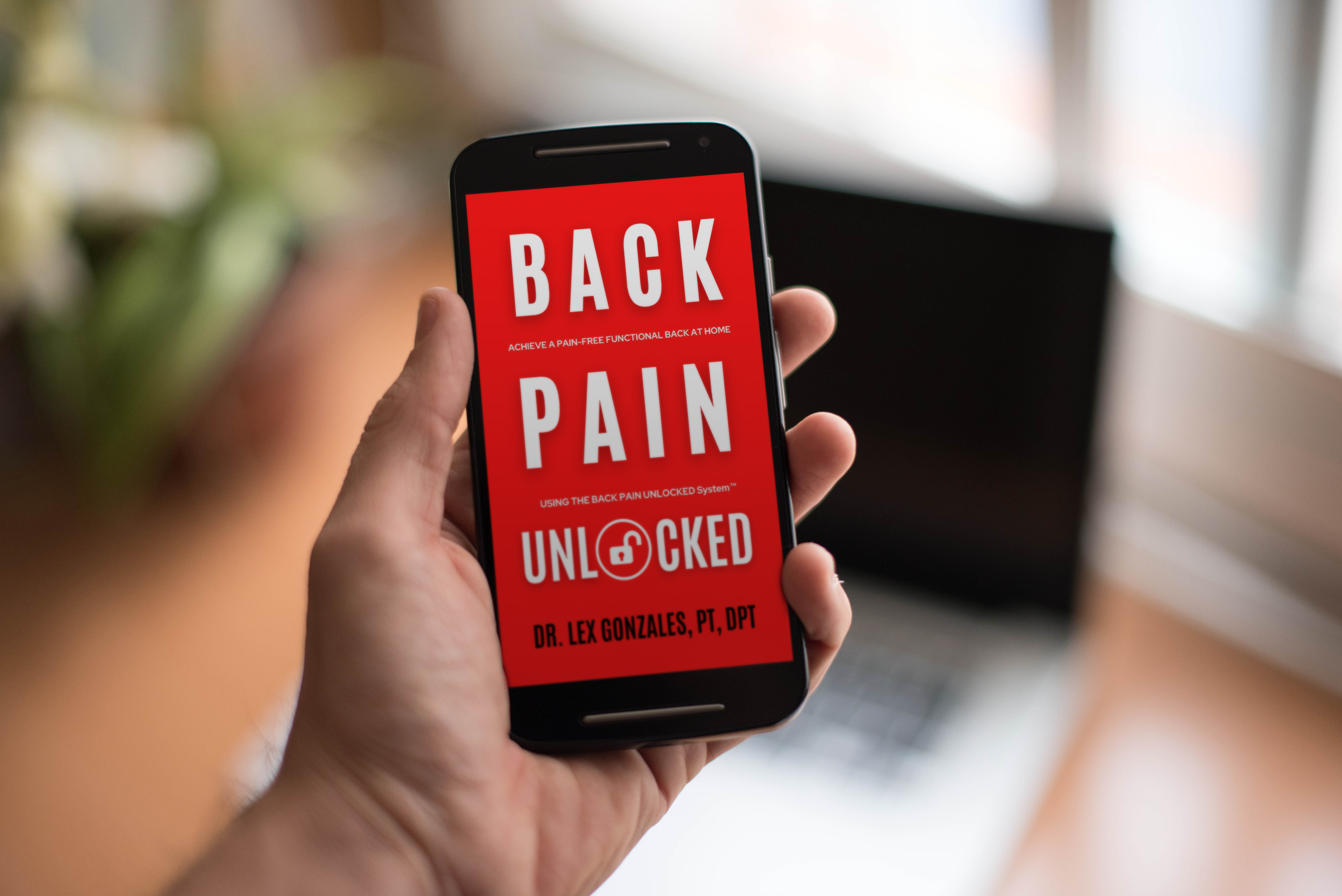 Bonus #2 Professionally Narrated Audiobook - FREE!

Prefer listening to your books?
Order now and I'll include a professionally-narrated audiobook version of Back Pain Unlocked for free.
Audio files delivered directly so you can listen on any device.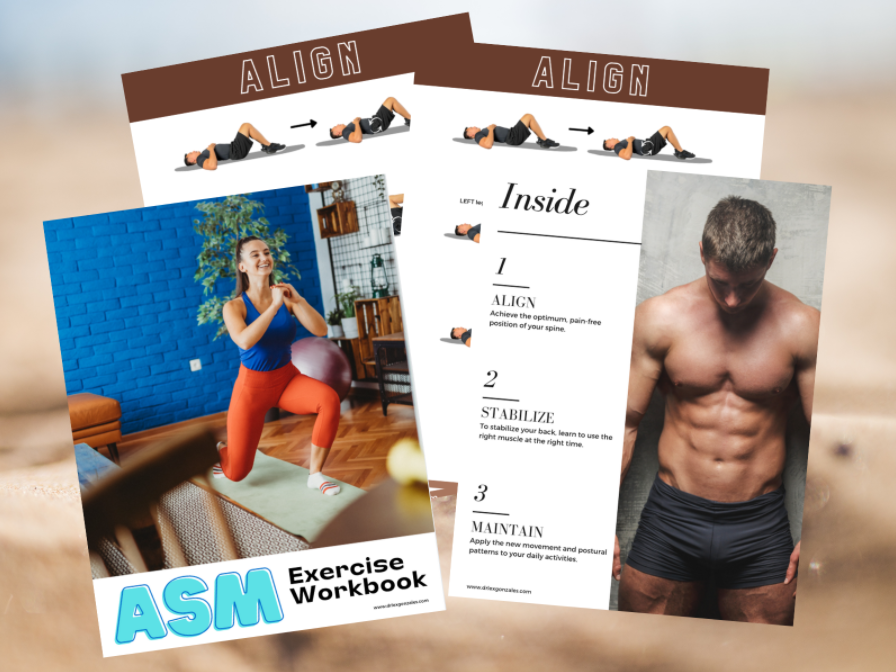 Bonus #3 ASM Back Exercise Program Workbook

What's better than getting a back exercise handout?
A workbook containing pictures and instructions of exercises laid-out in a logical and well- coordinated manner. I consider these exercises essential to ANY back exercise program.

Here's how confident I am that you will find valuable and helpful information in the book:

Try the book and bonuses for 1 full year. If, for some reason, you don't find them useful I'Il refund you the full $5.99, no questions asked.

P.S. Recap of the details above:

1. You are the most important member of the recovery team.

2. You need the right information, tools, and resources to achieve a pain-free, functionaI back.

3. For just $5.99, you can get the book I wrote where I outline a comprehensive back program you can implement at the comfort of your own home.

4. Also, if you get the book today, I will add in 3 extra bonuses - an audiobook version if you prefer listening over reading, the "Break Free From Pain" workbook, and the "ASM Back Exercise Program" workbook.

5. You can try the book and bonuses for 1 full year. If you don't like them, I will refund you back the $5.99 no questions asked.

About The Author
Dr. Lex Gonzales, PT, DPT is the award-winning author of THE BOOK OF BALANCE: Rehab Secrets to Improve Your Balance and Decrease Your Risk of Falling, winner of the 12th National Indie Excellence Awards (Nonfiction Category).

Dr. Gonzales has been a physical/physiotherapist for over twenty-four years with a special interest in the field of geriatric rehabilitation. He received his degree of Doctor of Physical Therapy from the University of South Florida and his certification as a Vestibular Rehabilitation Therapist from the American Institute of Balance.
Stanford University certified Dr. Gonzales as an instructor of Empowered Relief, a transformative pain treatment that rapidly equips patients with pain management skills.